Japanese Plus Traditional Culture
Are you interested in Japanese culture? This course offers you the opportunity to learn about the culture while learning the language, and the chance to participate in it with other Japanese people.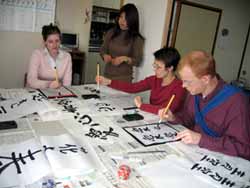 You will study 20 hours of Japanese per week, and then take 3 cultural "experience" classes each week. Culture classes are held on a semi-fixed monthly schedule. Below is a sample schedule of activities at our Fukuoka school:
| | Class 1 | Class 2 | Class 3 |
| --- | --- | --- | --- |
| 1st week | Tea ceremony and kimono | Kushida Shrine | Hakata Doll painting |
| 2nd week | Calligraphy | Touchou Temple | Japanese cooking |
| 3rd week | Zazen | Atago Shrine | Hakata textile college |
| 4th week | Pottery | Sumi-e painting | Japanese gardens |
| 5th week | Visit Fukuoka Castle | Japanese cooking (2) | Visit onsen |

All classes are based on gaining an understanding of and appreciation for Japanese culture, learning a specific point of Japanese, and participating in the beauty of Japanese traditional art.
First, you will learn the background and history of a topic, then practice vocabulary and sentence patterns related to that topic, using practical materials. Finally, when ready, you will participate in classes with a specialist teacher.
We guarantee that you'll have a great experience!
Standard Weekly Schedule
Day

Class (each class roughly two hours)

Tuesday, Wednesday and Thursday

Conversational Japanese
Japanese grammar
Japanese culture activity class

Monday and Friday

Conversational Japanese
Japanese grammar

Total per week

Roughly 26 class hours
Standard Tuition
39,900 yen per week

Click here to read student reports on some of the Traditional Culture experience classes.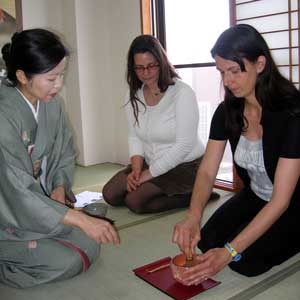 Students learn the art of mixing Japanese tea

A student is fitted for a beautiful kimono, as she learns how to put it on by herself.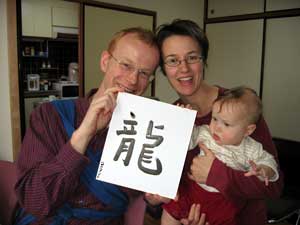 A student proudly displays his work: the kanji for "dragon" (ryuu)!