Online Video Chat Lessons
Talk one-on-one with a highly qualified Japanese teacher, with GenkiJACS' online video chat lessons. Cheaper than a plane ticket to Japan, and almost as much fun!
Supported chat software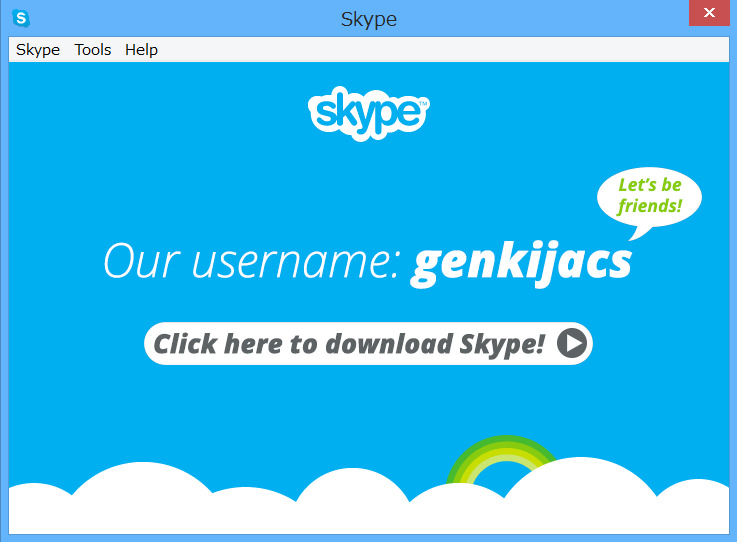 Lesson cost
click here to convert prices to your currency:
Please note: Prices in currencies other than Japanese Yen are provided to give an indication of the cost and may vary from the actual cost.
| | | |
| --- | --- | --- |
| Type of student | Lesson fee | Free lessons |
| New student (never studied at GenkiJACS) | ¥3,000.00 /50-minute lesson | First lesson |
| Former or registered GenkiJACS student | ¥2,500.00 /50-minute lesson | First two lessons |
Payment by credit card or Paypal.
Available lesson times (Monday to Friday)
| | | |
| --- | --- | --- |
| Japan time | from 3:00PM | to 6:00PM |
| Based on your current computers clock setting (timezone UTC ) | from | to |
| Select a different time zone here: | from | to |
If you are unable to take your lessons between 3:00PM - 6:00PM Japan time, please enquire via email. We might be able to arrange something for you!
Note that lesson time will change with daylight savings time, as Japan does not observe DST.
Lesson procedure
After we receive your application form, our online lesson coordinator will contact you to arrange the first lesson. If necessary, you will be asked to take a short test before your lesson.
Sign in to your chat program a couple of minutes before the lesson is scheduled to start.
If possible, register the appropriate GenkiJACS username as a contact.
At the lesson start time, your teacher will initiate the call. Answer this call, and the lesson will begin!

Things you need
A videocamera-enabled PC or device
A microphone
Video chat software and Skype account.
A credit card or Paypal account
Study Topics
Lessons can cover the same topics as private or small group lessons at GenkiJACS itself. However, you can also choose with your teacher to incorporate web resources into your study, such as reading online news together, or taking quizzes on other sites as homework, then discussing your mistakes with the teacher.
Trial Lesson Application
Due to overwhelming demand, we are unfortunately unable to take new Skype lesson applications currently. If you are a future or former GenkiJACS student who wants to take your two free lessons, please email us at info@genkijacs.com and we will send details of how to claim them.
Cancellations
To cancel a lesson, send an email to us at least 24 hours before the start of your lesson. If your mail is sent less than 24 hours before the lesson start, you will be charged for the lesson.
Problems
If problems prevent the lesson from being carried out as scheduled, it will be handled as follows:

If the problem is with the school's Internet access or equipment, the lesson will be extended to make up for missed time, or, if this is not possible, another lesson will be provided for no extra cost at a later date.
If the problem is with the customer's Internet access or equipment, or it is unclear what the source of the problem is, no extra time or extra lesson will be provided.
To determine the source of any problem, staff will ask you to hang up and call the Skype test number, while we do the same.