Welcome to Fukuoka
Fukuoka is located in the south-west of Japan. Its moderate climate, beautiful scenery and great location have made it popular with travelers both from within Japan and without. In 1997, 1999 and again in 2000, Fukuoka was ranked the best city in Asia by Asiaweek magazine. In 2006, it was chosen by Newsweek as one of the world's top 10 boomtowns, and has been ranked multiple times by Monocle Magazine as one of the most liveable cities in the world, and the best shopping city in the world!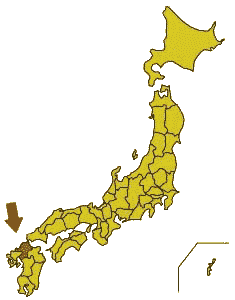 Fukuoka Prefecture is part of Kyushu, a large island to the south of Honshu, Japan's main island. Close to both mainland China and Korea, it is an important hub linking Japan with the rest of Asia and beyond.
Fukuoka City is the capital city of Fukuoka Prefecture, and has a population of approximately 1.5 million people. It is situated on the Sea of Japan (or the East Sea), and is well protected from the stronger elements of Japanese weather - earthquakes and typhoons are rare, summers are warm, and the people are friendly.
Fukuoka's renowned cuisine (the city has more restaurants per person than anywhere else in Japan) and warm-hearted people will make your stay here a pleasure. Foreigners are still not too common a sight in Fukuoka, so you will be sure to enjoy plenty of attention, and people are always happy to help you, even if your grasp of the language is not perfect. In addition, Fukuoka is
bursting with culture: its many art galleries, museums, and theaters will give you your fill of the Japanese arts, while the nightlife is the best on the island.
Fukuoka is also unparalleled in convenience - the international airport is a mere 10 minutes from the center of the city by subway, and from there it is only another 10 minutes by bus or bicycle to the nearest beach. Japan's famous shinkansen (bullet trains) will take you to any city in Japan in short order, or you can fly to Tokyo in an hour and a half.
Fukuoka Events Each Month
Check here for a full list of events (in English).
Fukuoka Guide Topics
Fukuoka Attractions
Dazaifu, the oldest Tenmangu shrine in Japan, and a beautiful way to spend a day or two
Canal City, a huge and extravagantly styled shopping center
Yahoo Dome, the local baseball arena, with an amazing teractable roof
Yatai, streetside stall restaurants. Fukuoka is famous for the quality and variety of these portable restaurants.

Fukuoka Tower, the tallest tower in Western Japan
Uminonakamichi Seaside Park, a giant aquarium, park, funfair and pool jamboree
Famous Fukuokans
Ayumi Hamasaki
Tamori
Spitz (the band)
Shina Ringo
Maki Sebiho (actress)
Chage and Asuka
Sheena and the Rokkets
Ryoko Tamura (Olympic judo champion)
The Flying Elephants
Misia
Kaba-chan
Cunning (comedy duo)
Hiroshi
Hikawa Kiyoshi
These are just a few of the famous people from Fukuoka. A much bigger list (in Japanese) is available here.
For more information about Fukuoka City, see the Fukuoka section of our links page.

Map from public domain maps at http://aoki2.si.gunma-u.ac.jp/map/map.html