Gen-kun, The GenkiJACS Mascot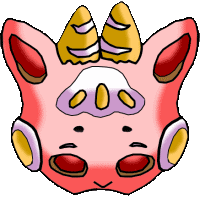 Gen-kun is the Genki Japanese Language School mascot. He is a benevolent demon. He is made up of 12 parts, one for each animal in the Chinese zodiac, and has three "faces":
One face to bring happiness
One face to ward off evil
One face that sees the truth
Gen-kun was originally created in clay by our pottery teacher, Mr. Shimozaki, as a symbol for the school. Our former intern Clarice created the wonderful images used on this website, from her own drawings.
The original 10cm-high Gen-kun sculptures are on display in our gallery, and available for sale through GenkiJACS. Each statue is unique, and it is rumored that rubbing his stomach will bring happiness.
His name comes from the first character of the word 元気 (Genki). 元 means the source or beginning. くん ("kun") is a cute suffix added to male names. Gen-kun spreads good feelings throughout the school each day, and over this website too!
Gen-kun comes with a backstory, translated from the original Japanese:
They say that to turn happiness upside down is to invite happiness. People say I have a 福顔 ("fukugao", happy face), but if you turn happiness upside down you get

"kufugao". If you turn that word upside down, you get
. It's pronounced "Fukuoka" of course!
My birthday: the day you bought me
My hobbies: Reading people's hearts
Favorite thing: Listening to you complain
Favorite phrase: "Are you genki?"
When you're happy, you won't see me any more…