Getting Around Kyoto
Kyoto, though a traditional city, offers a great number of ways of getting around. It is incredibly easy to find your way around the city and almost any point in town is reachable by using a number of transport options available.
Kansai Airport to GenkiJACS Kyoto
By Train
There is a direct line from Kansai International Aiport to Kyoto Station. It is called HARUKA and it will take you around 75 minutes.
By Bus
You can take a limousine bus from the airport and it will take you to Kyoto Station's Hachijo Exit. Please expect to be on the bus for about 85 minutes.
---
Itami Airport to GenkiJACS Kyoto
By Bus
There is a bus going straight to Kyoto station and it will take you about 50-55 minutes
Below is the map of the bus stop. The bus stop

is the bus stop for Kyoto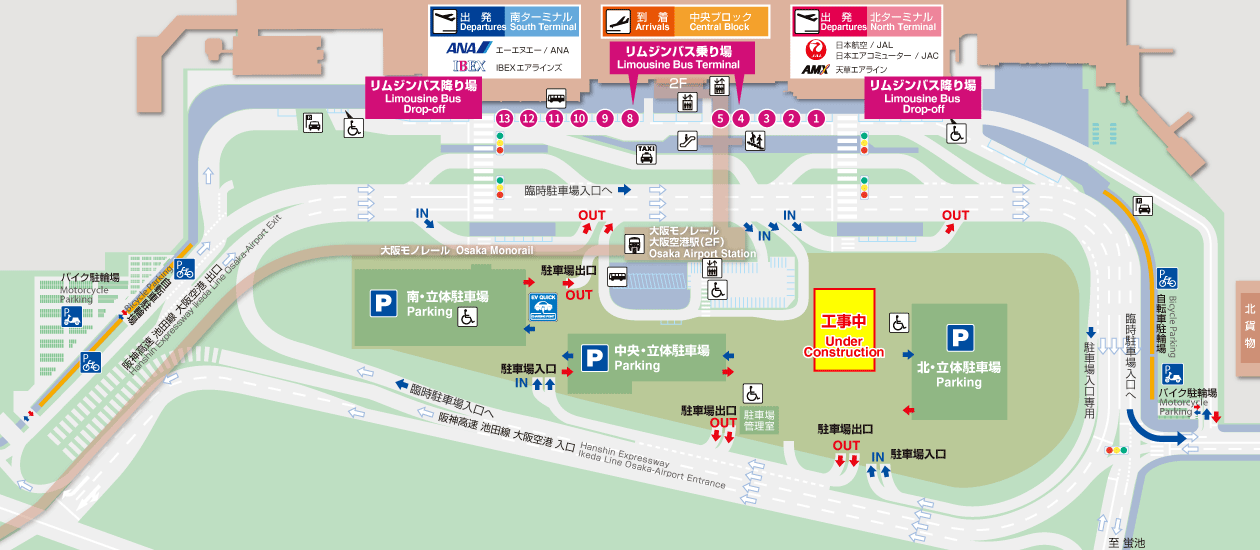 We can arrange for someone to meet you up at Kansai or Itami airport and take you to either our Kyoto Japanese school or your accommodation, via public tansport or private car if available, for 25,000 yen.
---
Taking a taxi
You can take a taxi from either of the airports of course! It is a little far, but it is one of the most convenient ways to travel. You will also get to experience Japanese taxis!
Some companies you might consider using:
hint: Getting a taxi by yourself from the airport can often be cheaper than asking us to book an airport transfer for you!
---
Getting Around Kyoto
If you are staying with us for a short time, the best way is to invest in an IC card as these pre-paid cards can be used on most buses, subways and trains. These cards can be bought at almost all stations, either from vending machines or with a little help from the station staff. The initial price includes a travel credit and a deposit that can be refunded when you finish using the card. However, if you are planning to come back to Japan we recommend keeping the card for the future! Each time you use the card (by tapping it on the gates as you enter and leave a station), the cost of your travel is deducted from the card. You can top up your card (charge) at any station using the machines. There are several cards to choose from but don't worry, our staff will be more than happy to help you out.

If you have a smartphone, we recommend installing a route search app that can be used even without internet access. One such app is Navitime

If you have internet access on your phone, Google Maps is very accurate and should give you some idea of where you are and how to get to your destination!
You can use the following:
Subway
Kyoto subway system is not as extensive as Tokyo or even Fukuoka underground systems, as it only has 2 lines. It makes it incredibly easy to operate, but they do not go to as many places. However, they can save you quite a bit of time since you won`t have to think about the traffic. Have look here for more information about the public transport system of Kyoto (in Japanese):
Bus
Most places in Kyoto can be reached by taking one of many busses. It can be a little confusing at first, but once you have gotten used to it, buses could become your best way of getting around!
Official bus website (in Japanese - You can translate it by clicking the "English" button on the top of the page)
Train
There are six train lines in Kyoto and you are welcome to use these for your daily commute and to get around the surrounding area!