JET Programme Info
Genki Japanese Language School was created by a former JET participant, an ALT in Fukuoka Prefecture. As such, we are always happy to help other JET participants further their Japanese study. That's why we provide several special services tailored just for JETs.
Services for JETs
Depending on your contracting organization, JET participants may be eligible to receive special paid study leave ("tokubetsu kyuuka"), to allow you to improve your skills without having to use your yearly paid leave ("nenkyuu"). Some JETs have received up to 5 weeks of paid study leave to study with us!
We offer several services designed to help convince COs to give JETs study leave, and JETs from many prefectures were successful in receiving study leave with our help. Some of the services we offer are as follows:
We provide an information packet for JET participants' contracting organizations, to tell them more about our school and the courses we offer, as well as the specific benefits to both JETs and COs of study at GenkiJACS. This packet consists of the following:
1) a cover letter stating that the JET is interested in coming to our school, with reasons why other schools have let their JETs come in the past (in Japanese)
2) a document outlining our school, the courses we provide, the teaching method, the advantages to JETs and to COs, etc. (in Japanese)
3) our school pamphlets (in English)
We can provide a formal schedule of classes and syllabus of course content in English or Japanese before the course starts.
We offer to take student attendance every day (having the student inkan an official timecard, as at school), and can provide a report for the school on what was studied, and what progress the student made.
We are happy to send the above information to the school or contracting organization of a JET participant. In addition, if there is anything else your CO would like, we are always happy to help!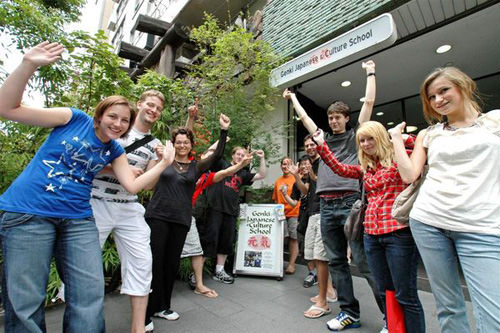 JET Discount
We offer special costs for current JET Programme participants, a huge discount from our normal prices! Here are sample prices for our Fukuoka school:
| | | | |
| --- | --- | --- | --- |
| | Normal Cost | JET Cost | Discount |
| Application/textbook fee | 21,500 yen | 10,750 yen | 50% |
| Standard course (1 week) | 32,500 yen | 27,000 yen | 17% |
| Plus course (1 week) | 42,500 yen | 37,000 yen | 13% |
| Example two week standard course | 86,500 yen | 64,750 yen | 25%! |
For an official estimate, fill out our estimate request form, and don't forget to check the "JET participant" box!
Answers to Your Questions
If you have questions about anything at all, feel free to contact us. We're always happy to help! We try to reply to email within two days, but if you need an answer right away, feel free to call us!