Related Websites
Here are some links to related information and resources. For a list of other IALC member schools, click here.
Our Partners

Studentsgoabroad.com is a placement agency for internships and voluntary work. We offer internship and voluntary positions in almost every subject, in more than 20 countries and on each continent. Contact us and we'll search and find an interesting internship for you and support you wherever we can: Accommodation, rental car, visa, flight, contact person on the ground. Choose a destination and spend an awesome time with us... The easiest way to go abroad – Studentsgoabroad.com!
---

LiveLingua.com is the world's first total immersion language school online.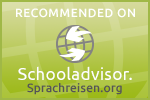 Fukuoka
| | |
| --- | --- |
| Fukuoka Now! | Fukuoka's premier magazine for foreigners living in Fukuoka, with lively forums. A treasure trove of information about the city. |
| Fukuoka Convention and Visitors Bureau | Lots of useful links to Fukuoka info for tourists. |
| May's Fukuoka City Guide | A few years out of date, but offers guides to all aspects of Fukuoka City and area, including nightlife, daylife, tourist attractions and more! |
| Japanistry | Regularly updated info on upcoming events in Japan. |
Japanese Study
| | |
| --- | --- |
| Japan Online School | Online Japanese lessons with real Japanese teachers using a webcam. You can learn Japanese at home. |
| JapanesePod101 | Many of our students recommend this subscription-based site to us as a great way to keep up on your Japanese study. Lots of videos to aid your learning. |
| The Japanese Page | Biiiig collection of information and study resources on learning Japanese, including heaps of kanji study help. |
| Learn Japanese on Japan Activator | Free Japanese lessons with interactive exercises to learn Japanese, revise and put in real situation your knowledge about the Japanese culture, civilization and language. |
| Japanese-online.com | Online Japanese classes to help you improve. Includes translations of Japanese math problems! |
| Nihongoup | A nicely presented Japanese educational game and review tool. |
Information About Living in Japan
| | |
| --- | --- |
| Japan Reference | A huge collection of information on Japan, links to other sites, and guides on all topics. |
| Japan Guide | Travel Japan Guide includes Japan maps, Japan hotels and Tokyo guide. |
Other
| | |
| --- | --- |
| Borderless House | They match Japanese people with foreigners, for maximum sharing. Tell them you're studying with GenkiJACS for a ¥10,000.00 discount. |
| Learn Languages with ESL | Learn French in Switzerland and France or learn German in Germany with ESL. Languages courses in full immersion for juniors, adults and professionals. |
| Sakura House | Monthly furnished apartments and guest houses exclusively for foreign people in Tokyo. |