Japanese Plus Activities (Fukuoka only)
Want to learn Japanese, but also see the city, and enjoy your summer vacation? This course offers our full 20-hour-per-week standard Japanese course, with at least three fun activities outside school each week.
The Japanese Plus Activities course is only available from June to August, for a maximum of 5 weeks, and is restricted to under-20 students.
You will study 20 hours of Japanese per week, and then take 3 cultural "experience" classes each week. Culture classes are held on a semi-fixed monthly schedule. Below is a sample schedule of activities at our Fukuoka school:
| | | | |
| --- | --- | --- | --- |
| | Class 1 | Class 2 | Class 3 |
| 1st week | Otaku Map Tour | Touchou temple and Kushida shrine | Cosplay lesson |
| 2nd week | Ikebana | Calligraphy | Tea ceremony |
| 3rd week | Manga lesson | Making plastic food samples | Maid Cafe |
| 4th week | Zazen meditation | Making character bentos | Katana sword class |
| 5th week | Cat cafe | Fukuoka Asian Art Museum | Traditional Japanese garden visit |
Activities are designed for maximum fun, but also to help you gain an understanding of Japanese culture, both modern and traditional. We guarantee that you'll have a great experience!
Note: this course is only offered at our Fukuoka Japanese language school.
Standard Weekly Schedule
Day

Class (each class roughly two hours)

Monday, Wednesday and Friday

Conversational Japanese
Japanese grammar
Activity

Tuesday and Thursday

Conversational Japanese
Japanese grammar

Total per week

Roughly 26 class hours
Standard Tuition
41,000 yen per week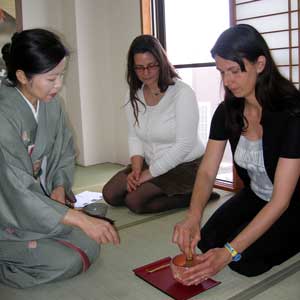 Students learn the art of mixing Japanese tea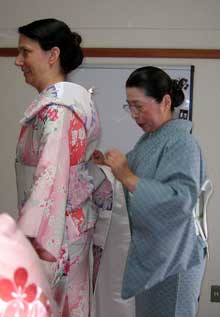 A student is fitted for a beautiful kimono, as she learns how to put it on by herself.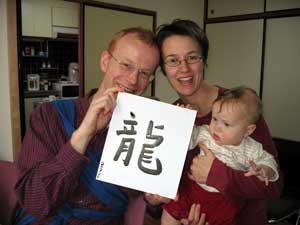 A student proudly displays his work: the kanji for "dragon" (ryuu)!