Study in Japan for a Year or More: Student Visa Course
Your dilemma: you want to study Japanese in Japan for a year or more, but GenkiJACS doesn't offer student visas. On a tourist visa or visa waiver, you're limited to a maximum stay of six months out of a year. What to do?
The solution: Take GenkiJACS' student visa course! On this program, you study with GenkiJACS for two to six months, on a tourist visa. We help you apply for your student visa. When your student visa is ready, you switch visas, then move to our partner school to study for one year or more.
Applicants must be 18 or older, and have graduated high school.
Note: We currently partner with a long-term school in Fukuoka only. If you would like to study in Tokyo, you can study at GenkiJACS Tokyo for your first few weeks, then switch to our Fukuoka partner school for the long-term portion of your study.
As of 2015, Japanese immigration authorities do not allow people to switch from a visa waiver or tourist visa to a student visa while in Japan, except in special circumstances. To change from short-term to long-term visas, you must leave the country once, preferably to return to your home country. This means you must leave Japan once before you move to our partner school.
If you are interested in our short-term or medium-term courses, click here for more info.
Our partner school
GenkiJACS has partnered with Fukuoka YMCA, a Ministry of Education-approved Japanese language school that offers 1- to 2-year Japanese courses.They also run a two-year college. We chose them because of their flexibility, high quality, small classes, and fun atmosphere! Additionally, their curriculum offers both academic and non-academic Japanese courses. They run a variety of activities and culture classes, and their downtown branch is located just 5 minutes' walk from GenkiJACS!
Note that courses starting in April last for up to 2 years. Courses starting in October last for up to 1.5 years. You may be able to extend for 6 months more, if a class is available at that time. If no class is available, you can switch to another Japanese school.
Request a no-obligation estimate now!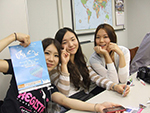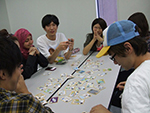 Student Application Deadline
| | | | |
| --- | --- | --- | --- |
| To receive student visa starting from | April 2016 | October 2016 | April 2017 |
| Apply to GenkiJACS by | November 20, 2015 | May 20, 2016 | November 20, 2016 |
| Start at GenkiJACS anytime between | October 2015 - February 2016 | April 2016 - August 2016 | October 2016 - February 2017 |
| Start at our partner school | April 2016 | October 2016 | April 2017 |
Our partner school can only accept new students at the start of April and October each year. So, your study with GenkiJACS must finish at the end of March or September. If you want to study with GenkiJACS for three months and start at our partner school in April, for example, your study with us must start in January.
Visa
Enter Japan on a visa waiver or tourist visa.
GenkiJACS helps you apply for your student visa.
When your student visa is approved, you receive the documents, and then return to your home country once, and take your visa and passport to the Japanese embassy to have the visa added to your passport. Then you return to Japan, and start studying at our partner school.
The student visa application is quite difficult. However, GenkiJACS can complete most of the process for you, and provides support in English for any parts you have to do. We're here to make it easy for you!
Note: The student visa has several ongoing requirements, including academic (you must pass regular tests to move to the next unit of study) and attendance (you must attend more than 80% of classes or your visa will be cancelled). Of necessity, our partner school is stricter than GenkiJACS, so we can only recommend study with them for people who are serious about learning Japanese.
Example Study Program (3 months at GenkiJACS, 1 year at partner school)
October: Application
Book your study at GenkiJACS.
November: Student Visa Application
GenkiJACS requests information to complete your student visa application, and sends you enrollment documents.
January: Come to Japan
Arrive in Japan, move in to your GenkiJACS accommodation, and start your study with us.
March: Receive student visa
Fly home to have your visa stamped in your passport.
April: Move to our partner school
Start your study with them.
March next year: Decide your future!!
Finish your study at our partner school, or continue your study!
Accommodation
Choose from the full range of GenkiJACS accommodation options while studying with us. When you switch to your partner school, you can stay in an affordable long-term dormitory, or a private apartment.
Differences Between GenkiJACS and Partner School
| | | |
| --- | --- | --- |
| | GenkiJACS | Partner School |
| Class size | Max. 7 students* | Max. 16 students |
| Class composition | Mostly Western students, English speakers | A mix of nationalities |
| School type | Short-study Japanese school | Japanese school and 2-year college |
| Location | City center | Branches in city center and outskirts |
| Teaching method | English used as needed | English not used in class |
| Strictness | Fairly relaxed :) | Slightly strict |
*In some cases, 8 students
Costs
click here to convert prices to your currency:
Please note: Prices in currencies other than Japanese Yen are provided to give an indication of the cost and may vary from the actual cost.
Tuition Costs

GenkiJACS enrollment fee
¥21,500.00
GenkiJACS tuition fee
¥32,500.00 per week
(minimum 8 weeks = ¥260,000.00)
Partner school fees (first year)
¥770,000.00
Other expenses (insurance, medical check)
¥28,500.00
Minimum Total (1 year and 2 months)
¥1,080,000.00
Accommodation Costs

GenkiJACS accommodation
From ¥10,000.00 per week
(minimum 8 weeks = ¥89,500.00)

Partner school dorm (private room)
¥539,650.00 for a year
Minimum Accommodation Total
¥629,150.00
Advantages of Combined Course
Experience: Studying at two schools gives you two different experiences, to make the most of your stay!
Support: Going straight to our partner school would be very difficult. GenkiJACS' special course prepares you in an environment where almost all staff speak English.
Communication: GenkiJACS focuses on communication for daily life, so you'll spend the first two months learning the skills you need to survive in Japanese life.
Visa: The student visa from our partner school lets you stay for up to two years and work in Japan, something you can't do at GenkiJACS. We assist with your visa application.
Community: Even after you move from GenkiJACS to our partner school, you are still part of our community support network, so you can join our Friday parties, culture events, tours and more!
Work: The student visa allows you to work up to 28 hours a week, to support your stay in Japan.
Note: details of partner school course may change without prior notice. Contact us to confirm details.