Our Students
Who are our students?
Data below is current as of February 2014.
We have had students from a total of 78 countries. The breakdown of the most frequent nationalities is as follows: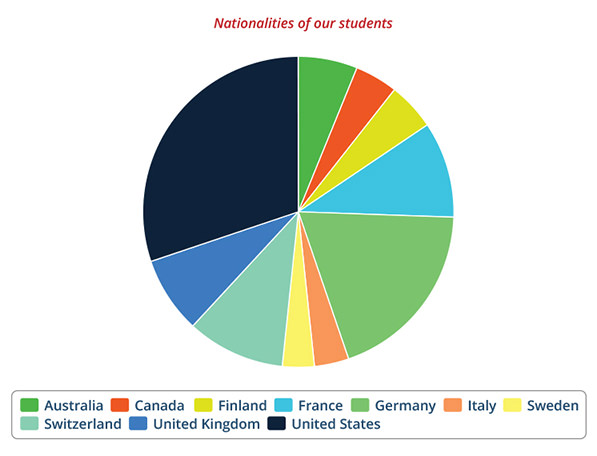 Japanese level of students when they started with us: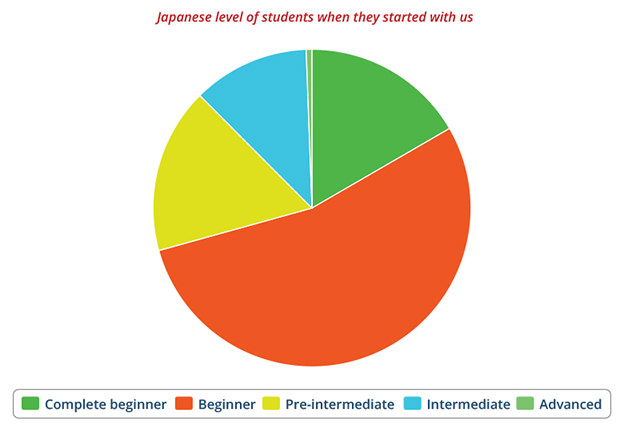 Age distribution of our students: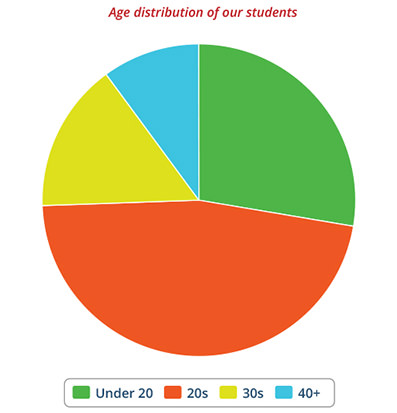 Gender distribution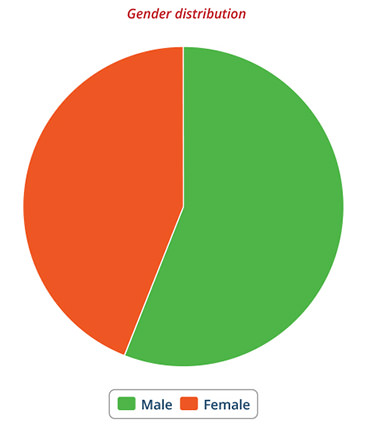 Students' preferred accommodation options in Fukuoka: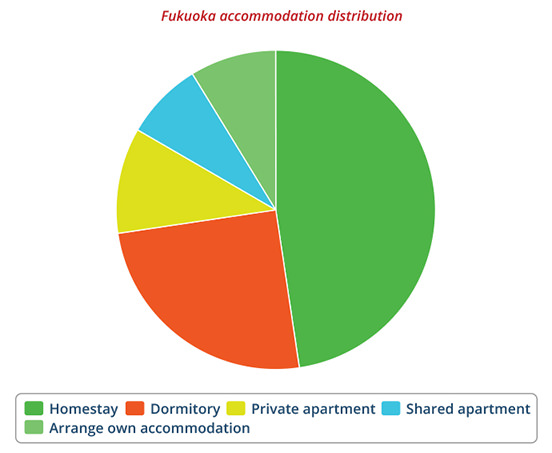 Students' preferred accommodation options in Tokyo: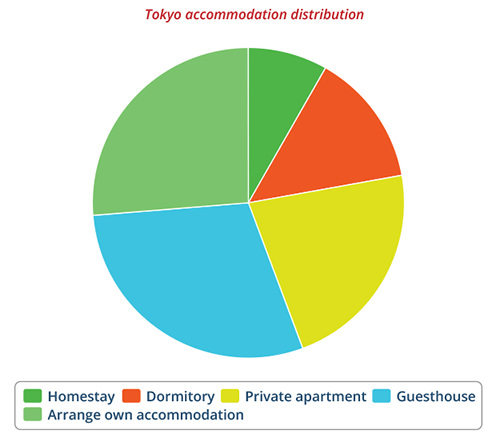 Number of students choosing each study length: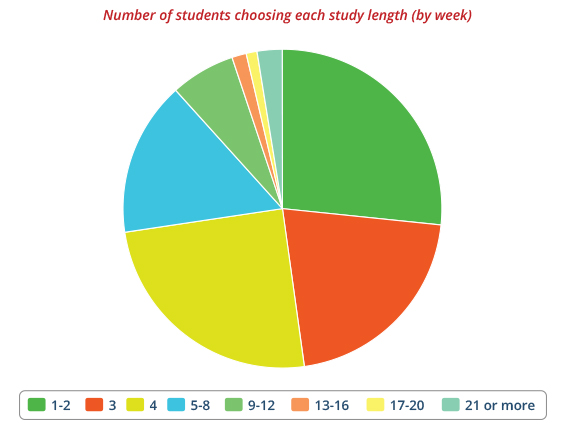 Top 5 airlines for travel to Fukuoka:
Top 5 Airports for Transit to Fukuoka (Domestic):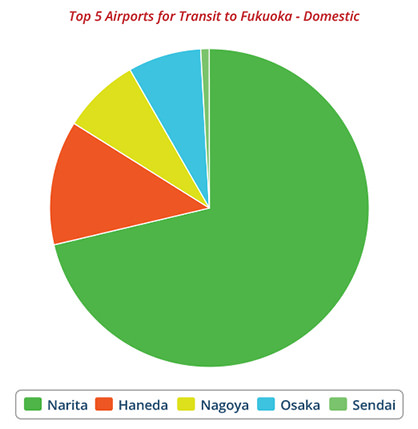 Top 5 Airports for Transit to Fukuoka (International):
How did students get to Fukuoka Airport?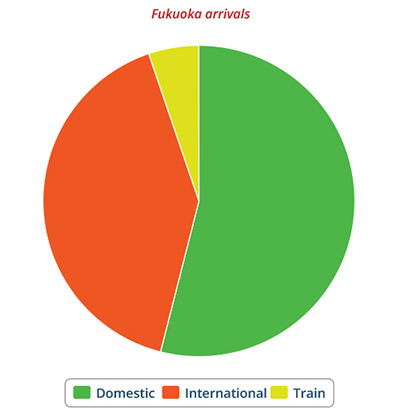 Testimonials
96% of GenkiJACS students say they would come back again!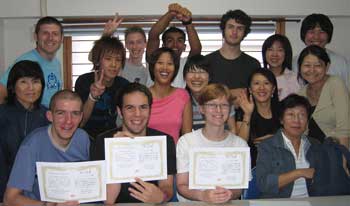 Here's what our students had to say about us on Coursefinders (Tokyo) (Fukuoka), Educationstars (Tokyo) (Fukuoka), Language International, Languagetripreviews (Tokyo) (Fukuoka), GoAbroad, and many more:
"An extraordinary thing on this school is the atmosphere. The teachers are relaxed and in a really good mood. It is real fun to have lessons with them. It's a great place to study. I would recommend the school and I'm looking forward for my next stay at Genki JACS. "
"I have attended several Japanese language courses in Europe and Japan. GenkiJACS proved to be the best Japanese language school I found. I definitely want to go back to GenkiJACS. "
"I had a great host family. They were very welcoming, and always tried to make my stay in Fukuoka fun and interesting. I was very happy with them."
"I was pleasantly surprised. You feel almost part of a family here. The teachers were open to talk about what you want. They aren't afraid to stray from the lesson. I learned a ton!"
"The atmosphere was very welcoming and supportive. I had a great time and learnt a lot. I'd come again!"
"I live in America. Coming to Japan is obviously a big deal. And still, I would certainly consider returning to GenkiJACS. Thank you!"
"Very good teachers, small classes. If I were to come back to learn Japanese, I would come here."
"My host family has been very kind and helpful. Thank you for finding a good place for me to homestay. Without them I couldn't have managed to settle here."
"I really appreciated how open the teachers were to questions and suggestions. The trips were also very educational and fun."
"The teachers are simply fantastic. Knowledgeable, fun and caring. I achieved excellent results in just 7 weeks. Location is simply fantastic."
"GenkiJACS was and is a unique experience. I went here last year and I will never forget it. The teachers are all really friendly and helpful. "
"Compared to other language schools I have studied at, the instructors at GenkiJACS are very enthusiastic. While my instructors were very professional in the classroom, they were also great companions/friends who love to hang out with the students with optional after-school activities. The administrative staff at GenkiJACS has been one of the very best I have ever interacted with."
"I was surprised by the friendliness and amount of teacher/student interaction outside of the classroom."
"The classes were relaxed and interesting and the teachers could easily explain things I had trouble with."
"If you want to learn Japanese, Genki JACS is the place to go. Genki JACS is a great all around experience. -- I'm planning to go back again for another 4 weeks."
"I want to come back here the next time I come to Japan to study! It was a great experience with which to finish my time in Japan. Thanks so much to everyone at GenkiJACS!"
"Originally I went to Genkijacs for four weeks but after two weeks I realized I liked it so much I ended up studying there for three months! "
"The staff is extremely friendly, helpful, and always happy to do what it takes for you to feel comfortable and enjoy the experience. It has been a wonderful experience, and I have been back each year. "
"Friendly and competent teachers! Also, the very small class sizes. It is a large plus that you do not put students with different levels into one class in order to reduce the number of classes!"
"Relaxed atmosphere, friendly teachers with excellent teaching skills! Small groups!"
"The teachers and classes: good attitude and always listening to wishes about class content."
"My host family was the best! They are really nice people and if you need something they will help you!"
"The school made me feel like a special person, not just one more student. I stayed with a host family, and they were amazing! They were so kind to me and took me all around the city. I still stay in touch with them! "
"I really loved the atmosphere and the teachers. The teachers are absolutely great and I that I learned here a lot more than the past 2 years at Germany. Genki 1/2 are the best textbooks for learning Japanese!"
"The homestay was fantastic. I could not have asked for a better homestay experience."
"Couldn't ask for nicer host families!"
Student Interviews
Check our video page, and blog for more!

Meryl Gormand, France
I recommend GenkiJACS School to anyone who wants to learn and practice Japanese in a fun and efficient way.  It is a GREAT school.  First of all, the staff is wonderful. They are nice and understanding and they will help you with any problems you might encounter.   The teachers are well-qualified and they will do everything to make you feel comfortable and make sure that you learn at your own pace.  Plus, the classes are small (we were only two students in my class); so, you have like private classes for a really good price. 
Furthermore, the school atmosphere is fun. You get to party with the staff as they often organized gatherings, which most of the time includes tasty Japanese food!!!  Also, the school is at a very convenient location since it is in the center of Fukuoka, only 5 minutes away from the main train station.
Regarding the homestay, I have been staying in a host family in which I had such a great time.  They were so nice and I got to practice the Japanese I learned at school when I came home at night.  I also got the chance to learn about and experience the Japanese culture in a unique way.   
So, to sum up, if you are looking for a Japanese language school, Genkijacs might be one of the best schools you can find in Japan! 
---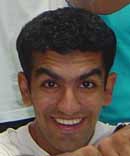 Abs Tangri , United Kingdom
English Teacher
I was at GenkiJACS for about 3 weeks in the summer of 2005 and I cannot recommend this place enough. I had a great time there and would definitely go back again.
The teachers were top notch. In every instance they were able to teach to extremely high standards whilst simultaneously making interesting and, perhaps more importantly (especially for me), fun lessons. Whatever I am studying I will never improve if I am not enjoying the subject. The ethos instigated by the GenkiJACS' teachers meant that this was not a problem - it was always fun and consquently I was able to learn a lot on my intensive course.
Lessons aside there was lots to be done outside the school. I had been to Fukuoka many times before but I had never seen how beautiful it was. I hired a bike from the school during my 3 weeks there and regularly went exploring the city. It was surprising to find stunning beaches, serene parks and great shopping all situated so close to one another. For those of you interested in nightlife there is something going on every night though special mention must be made to the beach party thrown by the school. Yaki niku, birthday cake, birthday cake fights and beach American Football are just some of the highlights of that great night.
So there you go; great school, great teachers, great lessons, great city, great fun. If you decide to head to this city in Northern Kyushu I am sure you will not regret it.
---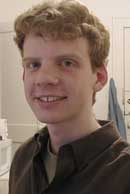 Gavin Ferguson, America
Student
The courses at GenkiJACS were quite intense, but the teachers were enthusiastic and always went out of their way to come up with creative and enjoyable lessons. As one homework assignment, for example, I had to figure out the punch lines to several joke haikus about salarymen. For another lesson, we went to a nearby park and interviewed people about Japan. Because the lessons were so engaging, I looked forward to coming to class everyday.
Outside of class, the teachers at GenkiJACS were absurdly friendly and helpful. I gained much invaluable practice just speaking Japanese around the school and at various activities. They also went to great lengths to make sure everyone enjoyed their stay in Japan, taking us on field trips and offering movies at the school, for example. In addition, they were also there to lend a helping hand through various tribulations my classmates and I encountered.
Looking back, I am very pleased with the progress I made in the four weeks I studied at GenkiJACS. More importantly, however, I came away more motivated and better equipped to continue studying Japanese.

---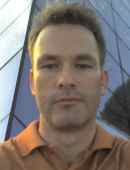 Alex Steinberg, Germany
Business Consultant
I volunteered to write this note of recommendation for Genki Japanese and Culture School, as I have been very delighted about the quality of teaching and the overall service. My name is Alex Steinberg, I am a business consultant and have studied many languages due to my work around the world.
I strongly recommend Genki to you! The teachers are highly qualified, dedicated and warm-hearted. They have helped me to progress rapidly in my Japanese studies and made it a great study experience. I had a good feeling throughout the entire time.
Genki has a fresh philosophy of teaching and effectively responds to the individual needs of the student in a very flexible way! Beyond the course work, Genki has provided me with great additional help, such as finding an apartment, dealing with the landlord, and even introducing me to local people, so that I would have more practice to speak Japanese. Further Genki has given me much practical help such as finding my way around the city, running all sorts of errands and other interesting activities.
Genki is optimally located in the center of Fukuoka, allowing easy access to coffee shops, restaurants, and many interesting places to hang out before and after class. Fukuoka itself is a great city. Having traveled all over Japan, and having visited most of the main cities I find Fukuoka to be the most beautiful, convenient and fun city. The city offers many great parks, tourist attractions and places to hang out.
I strongly recommend Genki to you. You will have both a great study experience and fun! When I studied at Genki, I felt like part of a family!
---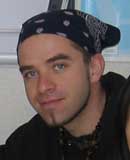 Pascal Tremblay, Canada
Cirque du Soleil Staff
My name is Pascal. I'm from Montreal, Canada. I studied at GenkiJACS for only 2 months, but this is what I remember from it:
At that time, I had just started to learn Japanese, so my knowledge was very basic.
First of all, the most important thing when you study something is to have your own self motivation, but this alone is not enough if you are not being led by a professional teacher to direct that motivation. That's the kind of guidance I got when I went to GenkiJACS. The teachers there really helped me to get into it. They made learning a funny and interesting experience.
The school is very dynamic, and the teaching quality set the standard for all other schools I attended (and I should mention that it hasn't been equaled yet!). I would also recommend this school because it's very inexpensive for that level of quality, and also because it's located in Kyushu , which is to me the best place to live in Japan . The quality of living there can not be found anywhere else: the food, the people, the sea and of course GenkiJACS made my experience one that I will never forget.
I know finding a school from abroad is difficult, but I'm really glad I chose GenkiJACS.
I hope that you too have this great opportunity to learn and live Japanese culture in a friendly and professional environment. Gambate!
---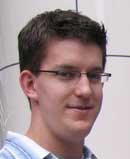 Aaron Chambers, Canada
Student
Genki JACS is a wonderful school. At Genki JACS one experiences an atmosphere conductive to learning but that is also very friendly and fun. The staff is excellent, helpful and easily some of the kindest people I have ever met. While I studied at Genki JACS my skills in Japanese advanced rapidly and, even more importantly, I was able to meet many nice people and experience the astonishing Japanese culture first hand. But not only that, I was also able to meet people from all over the world and learn many things, first hand about their cultures as well. Overall, Genki JACS is a school I would strongly recommend to anyone interested in learning Japanese language and about Japanese culture.
---
Eileen
Student
I attended Genki Japanese and Culture School (GenkiJACS) in Fukuoka from July 25th until August 19th, 2011. The course was extremely rewarding, and both the city and its people were fascinating.
The school mainly works with the popular Japanese textbook Genki. I took the standard beginners course. The classes are small, usually 3 to 5 people. Teachers are on a rotating schedule; I had six teachers altogether. In four weeks, we covered chapters 4 to 7, which is enormous compared to other language schools. This is due to much interaction among students and a strict no-English policy, though all teachers are fuent in English and many other languages. The course was intense yet very enjoyable. Most teachers are under 30 and very open-minded in their teaching. Homework is given every day and usually amounts to 30-40 minutes of work.
Personally, I beneftted greatly from the intensity of the teaching. Where I was able to apply grammatical rules and new vocabulary during my course at my home university, I now learned to speak Japanese more practically. Everyday phrases – in and outside of the classroom – are now engraved in my memory, and my listening skills have improved greatly. In short, being in a native environment certainly forces one to use the language, thereby gaining much more practice and insight. Outside of the classroom, students usually spoke English with each other. Though practicing some phrases was helpful outside of class, I hardly learned relevant things simply speaking to Japanese people on the streets.
The school is rather small but very effcient. 13 classrooms, a lounge, and a teachers' room are enough to accommodate around 40 people every day. The staff is very helpful with advice for anything from accommodation to sightseeing in Fukuoka or even Japanese grammar. Every week, they would organise some events (flm screenings, special food tastings, beach parties). Classes that are part of the 'Japanese culture course' are also open for everyone to jump in spontaneously. These can include pottery, tea ceremony, noh-theatre etc. Their website (http://www.genkijacs.com/) also offers extensive information. Overall, I would say GenkiJACS is an outstanding school and worthy of the relatively high study fees! The school is located on a central avenue in Fukuoka, making it an excellent place to start exploring the city in the hours after class. Fukuoka has many things to offer: a beach, many well-preserved temples, renowned local and international food, allegedly one of the best shopping regions in the world, and hot springs (onsens) in the area around. It is also connected to the bullet train (shinkansen), with which one can travel around in Japan easily. Living costs are high, but perhaps not as high as one might expect. On average, I spent 15-20 pounds a day on food and going around town. Even if I couldn't always understand what was being said, the fact that I could read about 60% of the kanji (Chinese characters) helped immensely. Japanese food, especially the local food, is one of the greatest passions of the people, and I gladly let their zeal for the perfect feast infect me. Weekly karaoke evenings are among the favourite activities of the students, usually a great opportunity to meet the new faces arriving each week and other Japanese friends of those stationed in the city. Accommodation was organised by the school. I was housed in a dormitory in Wajiro, in the north-east part of the city, reachable by train. A ride to school usually took an hour, and transportation cost around 110 pounds in total. The dorm had two houses. I lived in the 'Second House' during the frst two weeks, which can be described as adventurous. The host is a middle-aged yet forever young American vintage store owner who greeted everybody in the neighbourhood with 'irie!' - Jamaican for 'hang loose'. The downside of this nonconformist lifestyle – compromised hygiene – made me move to the main dorm for the last two weeks, which had mostly Japanese students studying at the nearby Fukuoka Institute of Technology. The atmosphere was always pleasant, the rooms were big and had air conditioning. One things that might take some getting used to is sleeping on the foor (tatami).
In conclusion, a short-term study at GenkiJACS is highly recommendable. The standard course was a good place for me to start, as other afternoon courses and activities were fexible. The classroom atmosphere greatly accelerated my learning speed, and events organised by the school were very engaging. Fukuoka is an extremely young and vibrant city and offers something for everyone. However, I would warn potential students that the summers are extremely hot (usually around 36 degrees and humid despite the sunshine). I am also happy to talk to any prospective students about studying in Japan or GenkiJACS in particular.